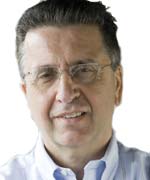 Dr. Ibrahim Engin "Abe" Civan – Managing Partner
Dr. Civan has 12 years of experience in private sector for project financing, international mergers and acquisitions, and opening up new markets.
Dr. Civan has 10 years of experience in banking and finance at the World Bank in derivatives and banking sector restructuring. In addition, he has experience in institution building as a specialist. Dr. Civan has 4 years of experience in Western Europe fund management.
Dr. Civan has 7 years of experience in Turkey in the banking sector. Civan has worked in banking reform, mortgage banking, and bank mergers. He has experience in institutional building in a developing country as a political appointee as well.
In 2012, Dr. Civan and a diverse international team formed USAsialinks. Dr. Civan is currently a senior VP for US-Asia Links and aims to open new markets, promote economic growth, and foster business relationships between United States and Asia.
Dr. Civan holds a Ph.D in Economics from George Washington University and M.A in International Relations from John Hopkins University.