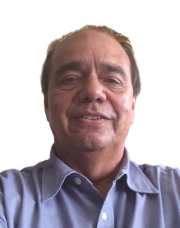 Mauro C. Varejão – Vice President of Brazil Business Development
Mr. Varejão began his professional career at a marble and granite company, focusing on all aspects including production of stone, purchase of blocks in quarries, classification and selection, administration, treasury and industrial design, commercial, and placing of materials on site. His varied focus and innovation led to him creating an export/import division which includes export of granite plates and blocks and import of plaqures and marble tiles. His work helped increased production, hilling, and other innovations and major projects in Rio de Janeiro, such as Centro Cultural do Banco do Brazil, Copacabana Palace Hotel. He eventually became both the director and shareholder for the company.

In 1998, he founded his own company with a partner and represented the company General of Italy, one of the largest manufacturers of products for treatment of stones. In the year 2002, he founded another company for export of marble granite. The company exported to USA, Korea, England and United Arab Emirates.

In 2005, with a partner also experienced in the industry, founded another company to continue to exports as well as set up a sawmill and mining company of granite with cutting-edge technology and be an exemplary company for the environment in the industry. The export continues, including for new customers in Angola and Bulgaria.

Mr. Varejão's experience in the industry includes:
President of the Union of industries of marbles and Granites and related rocks since 1996
Federation of industries of Rio de Janeiro:

Counselor since 1996
President of the Forum of ornamental rocks since 2001
Second principal Secretary in 2004
Director since 2005

Founder and Vice President of Associação Brasileira das Indústrias de ornamental rocks from 1995 to 2005
Mr. Varejão also has experience in the field of market research. In Brazil all the fairs of the sector and some civil construction and architecture, are visited by Mr. Varejão since 1987, both Rio de Janeiro, Sao Paulo and Espirito Santo, and in the Centre-West, North and Northeast.

He has traveled abroad and participated as a visitor and exhibitor at fairs of the sector and construction in the cities of:
Las Vegas, Chicago, Orlando, Miami, Baltimore, New York and Atlanta (USA); Abu Dabhi and Dubai (United Arab Emirates), London and Shut (England); Carrara and Verona (Italy); Taipei and Huallien (Verona); Shanghai, Ximen and Beijing (China); Tokyo (Japan); Oslo (Norway); Luanda (Angola); Paris (France); Nuremberg (Germany); Porto (Portugal).
Additional countries that made market research studies, knowledge of materials, including quarries and other types of stones also include:
Argentina, Uruguay, Aruba, French Guiana, Sweden, Ireland, Spain, Australia, New Zealand, Indonesia, Singapore, Malaysia, Bulgaria, Belgium, Aruba, Macao, Hong Kong (China), The Netherlands.